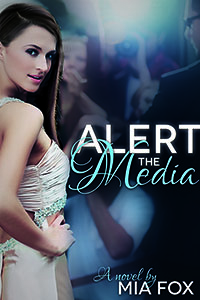 "There's something magical about seeing your own cover for the first time. It's like finding the perfect dress to wear to the prom
…
nothing beats that feeling of "that's it"!
That's exactly how I felt when I first saw the cover for "Alert the Media," my latest novel, a fun, farcical, contemporary romance set in the world of Hollywood public relations battles.
Naturally, I had my own ideas of what I wanted the cover to look like, but fortunately I had the very talented Eden Crane to guide me
…
and set me straight about my own less than artistic vision!"
Add "Alert the Media" to your Goodreads TBR list
HERE.
Look for "Alert the Media" at the end of June 2013
on all of the usual places where ebooks are sold
.
Mia Fox is a Los Angeles-based novelist who writes across varied genres including contemporary fiction, chick lit, as well as young adult/new adult focusing on paranormal romances.
She received her Bachelor of Arts degree in Communications from U.S.C. followed by a Masters Degree in Professional Writing also from U.S.C.
Her first chick-lit novel, "Alert the Media," is based on her previous professional life working as an entertainment publicist. Today, she is happy to leave that world behind her, preferring that any drama in her life is only that which she creates for her characters.
Mia is happily married to her best-friend, a Brit who has inspired her with annual visits to England, an appreciation for dark chocolate, and the blessing of their three children.
Goodreads